Get a Professional Garage Coating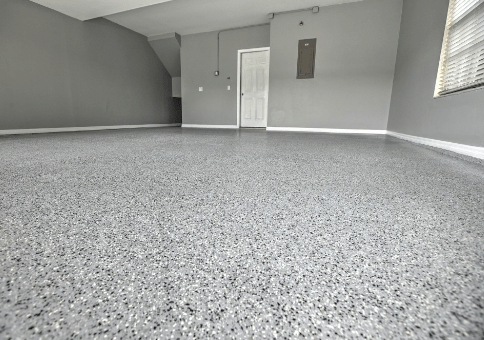 At Johnston Paint & Decorating, we believe you should be able to love every inch of your home, from the interior design to the exterior paint. In many homes, the garage is an important room – one that gets used nearly every day, not only for parking but for storage, organization, work and more.
When it comes to design, the appearance of a garage is often overlooked. But your garage is still a part of your home – and therefore a space you should be able to enjoy spending time in.
One of the best ways to transform your garage quickly & without significantly disrupting your normal routine is to make over the floor with a surface that is simultaneously practical and visually appealing. One trendy solution is to apply a garage floor coating to update your floor's overall look and performance.
Many of the popular coatings on the market today are as strong as the products used in professional garages. While you may have heard of garage floor coatings that require warmer temperatures to apply, you can actually coat your floors in any season. At Johnston Paint & Decorating, we offer the popular Seal-Krete line of polyurea polyaspartic coatings. These coatings are safe for your home's environment, containing no volatile organic compounds (VOCs).
Like epoxy coatings, our Seal-Krete coatings consist of 2 components mixed together to cure & harden. Unlike epoxy coatings, however, a polyurea polyaspartic coating can be applied in cool temperatures at any time of year. Apply these professional-grade floor coatings at any temperature between -20°F to 120°F. These coatings are as good a fit in your home as they are in business settings, hospitals, stadiums, airplane hangars, kennels, & factories – so you know they're built to stand up to as much wear and tear as you could ever throw at them.
With our Seal-Krete floor coverings, your entire garage renovation project can often be completed in less than one day, and your garage will be able to be used again 24 hours after completion. The Seal-Krete system consists of three layers, starting with a base coat that penetrates your existing concrete surface to seal & bond with it, serving as a primer. The second layer is a decorative chip that can be customized for a variety of color options. Finally, the third layer consists of a clear top coat which makes your floor as durable as it is beautiful.
If you're not already convinced of the merits of our garage floor coatings, consider the following.
Other benefits of Seal-Krete floor coating
UV stable surface that won't yellow over time
Crystal-clear, high-gloss finish that repels moisture
Resistance to abrasion, scratches, & stains
Resistance to chemicals including salt, oil & gasoline
High heat tolerance, meaning hot-tire pickup is not an issue
Flexible surface that resists cracking, peeling & impact damage
Bonds with the concrete beneath for enhance strength
Can be installed in outdoor spaces as well as indoor
To learn more about the garage coating products we offer here at Johnston Paint & Decorating, stop by our showroom in Columbia, MO.